How to set up 911 S5 proxy tutorial
Cashoutgod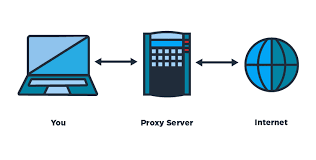 911 S5 configuration guide
911 will add extra security on your network same way a VPN can do, however S5 proxy are faster than VPN but doesn't encrypt your networks. 911 S5 provides a gateway between users and the internet. Therefore, it helps prevent cyber attackers from entering a private network. It is a server, referred to as an "intermediary" because it goes between end-users and the web pages they visit online
In this guide I am going to teach you how to download and setup 911 S5 guide.
911 SOCKS SETUP TUTORIAL IS DIVIDED INTO 3 PARTS
PARTS 1 : HOW TO SIGNUP AND BUY PROXIES ON 911 SITE
PARTS 2 : HOW TO DOWNLOAD 911 SOFTWARE AND INSTALL ON PC
PARTS 3 : HOW TO RUN THE SOFTWARE AND CONNECT TO AN IP
911 setup Prerequisite
To get started you are going to need a few things.
PC Computer at least with windows installed.
Min 29$ For purchasing proxy plan
Email Address
PARTS 1 :
HOW TO SIGNUP AND BUY PROXIES ON 911 SITE
This page explains how to set up 911 S5 proxy solution. You can find out more information about this proxy provider on their official website.
FIRST GO TO 911.RE (THEIR WEBSITE IN ENGLISH)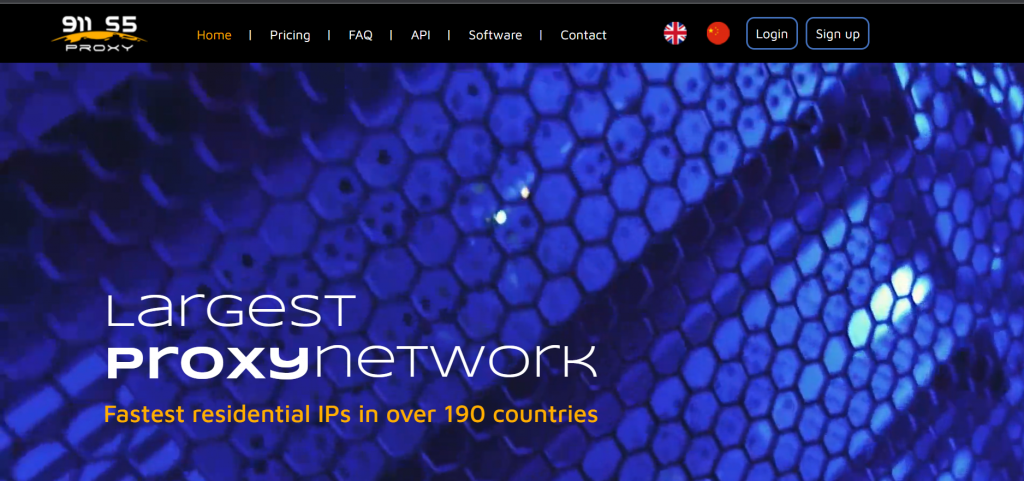 A NEW PAGE WILL OPEN, YOU WILL BE ASKED TO INPUT YOUR SIGNUP INFORMATION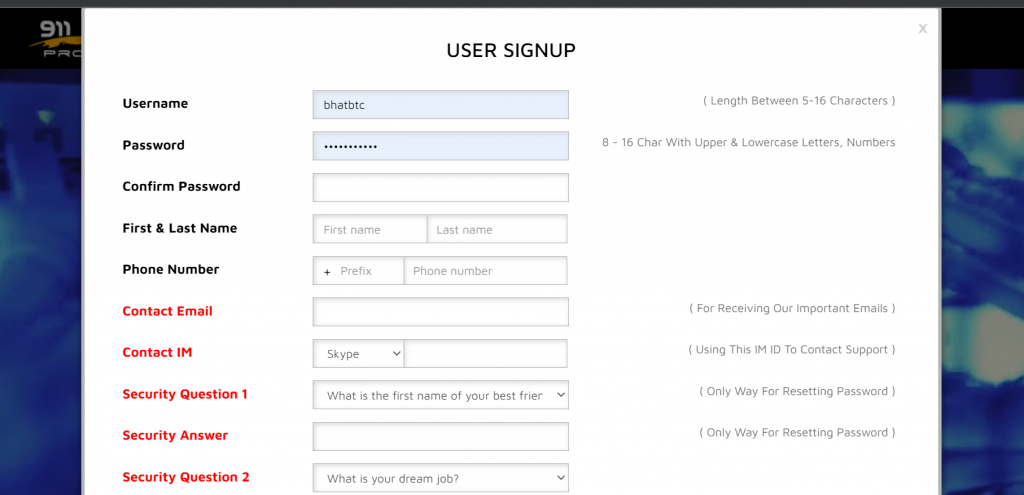 NOW CHOOSE THE NUMBER OF PROXIES YOU WANT AND CLICK ON SUBMIT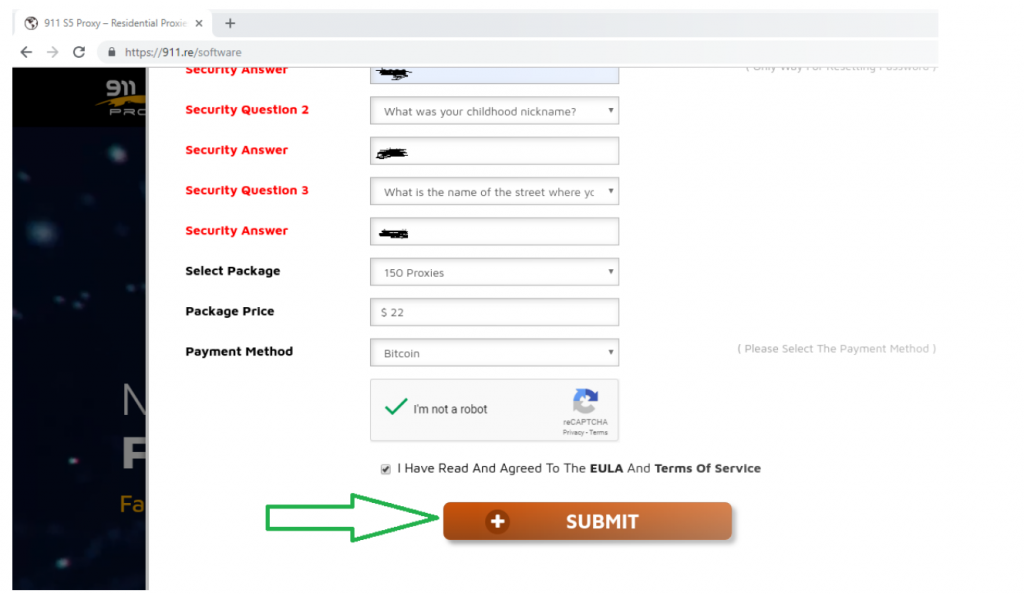 DEPENDING ON THE NUMBER OF PROXIES YOU CHOSE, YOU WILL BE REQUIRED TO SEND THE EXACT AMOUT OF BTC TO THE ADDRESS ON FILE. YOU CAN EITHER COPY THE BTC ADDRESS OR SCAN THE BARCODE THERE.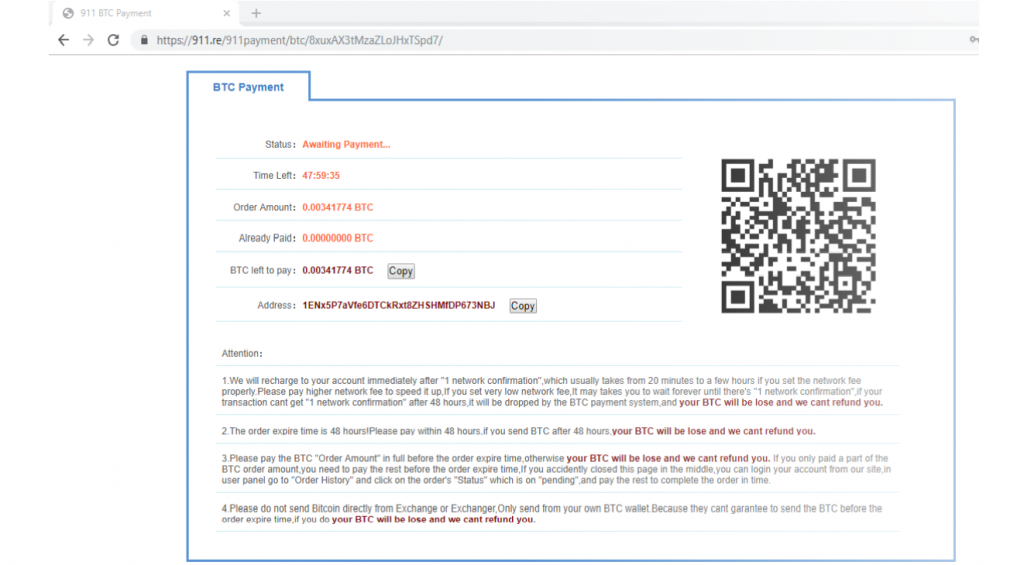 ONCE THE EXACT BTC AMOUNT IS SENT; STATUS WILL CHANGE FROM AWAITING PAYMENT TO PAID.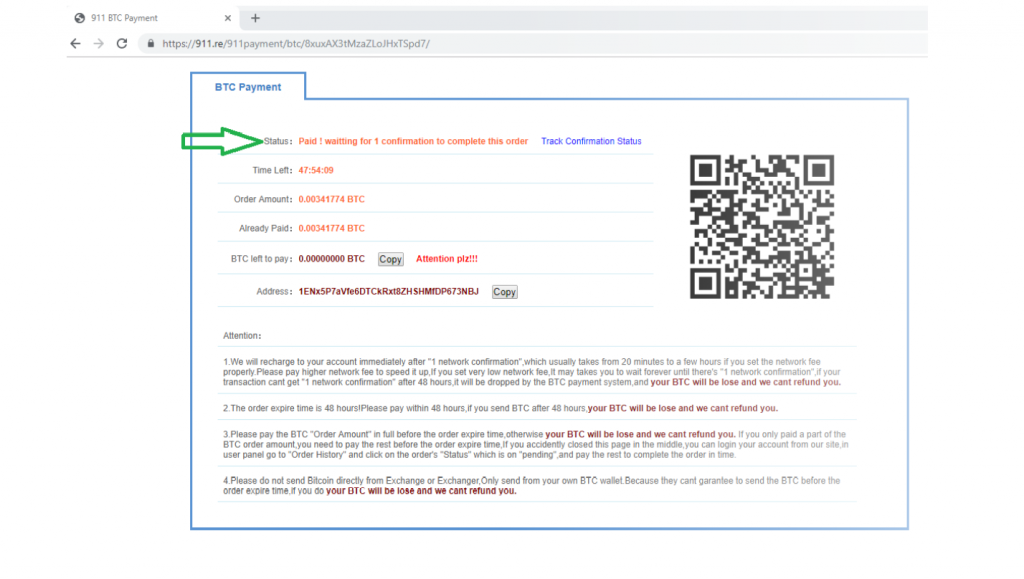 ACCOUNT IS NOW SUCCESSFULLY REGISTERED ;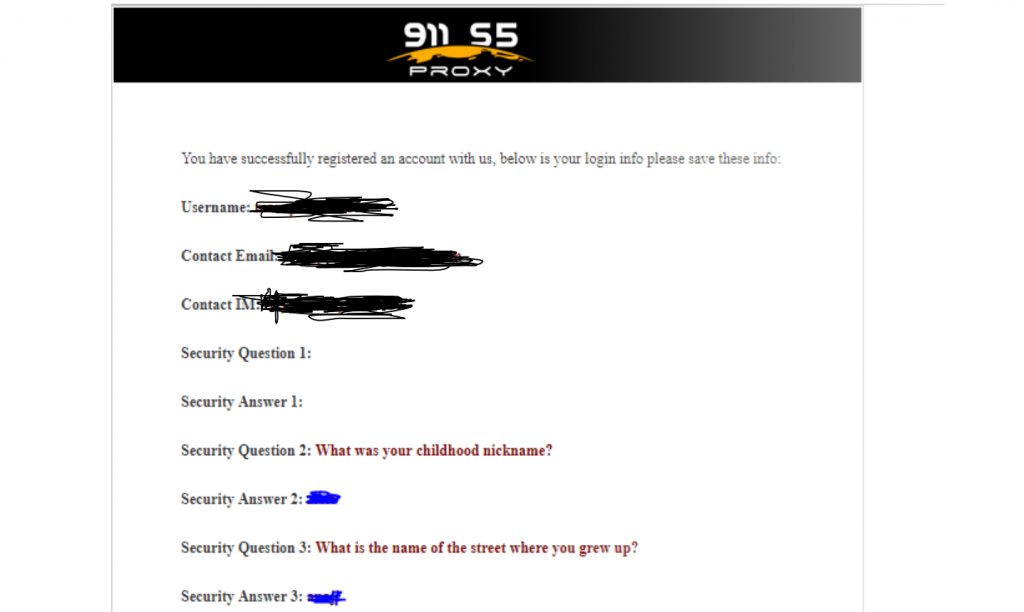 How to download 911 S5 proxy software
In this section you will learn how to download 911 S5 software
FIRST OF ALL, GO TO 911.RE WEBSITE AND CLICK ON LOGIN INPUT YOUR LOGIN INFORMATION AND CLICK ON LOGIN. (REFER TO PART 1 OF THIS TUTORIAL ON THE CHANNEL IF YOU HAVEN'T CREATED AN ACCOUNT YET TO GET A LOGIN)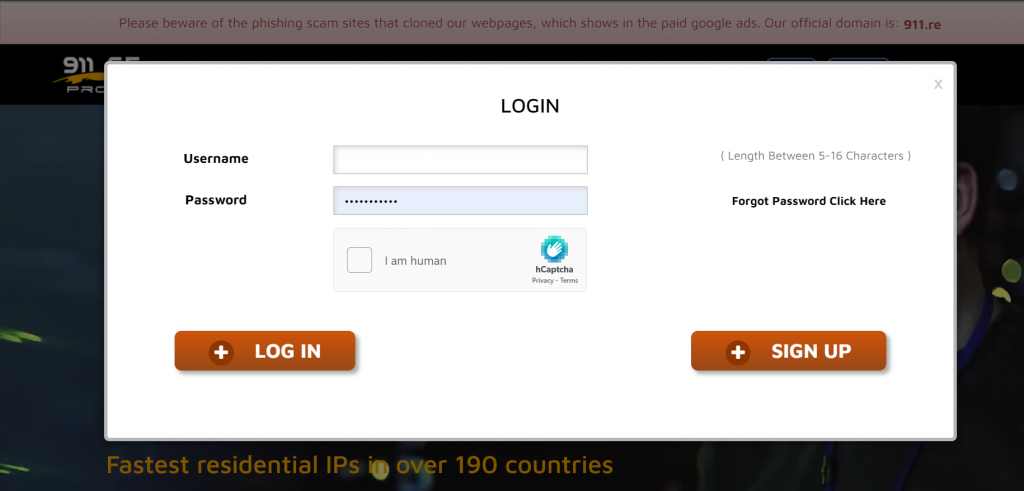 NOW ON THE HOMEPAGE, CLICK ON 911 S5 SOFT DOWLOAD TO BE TAKEN TO WHERE THE 911 SOFTWARE IS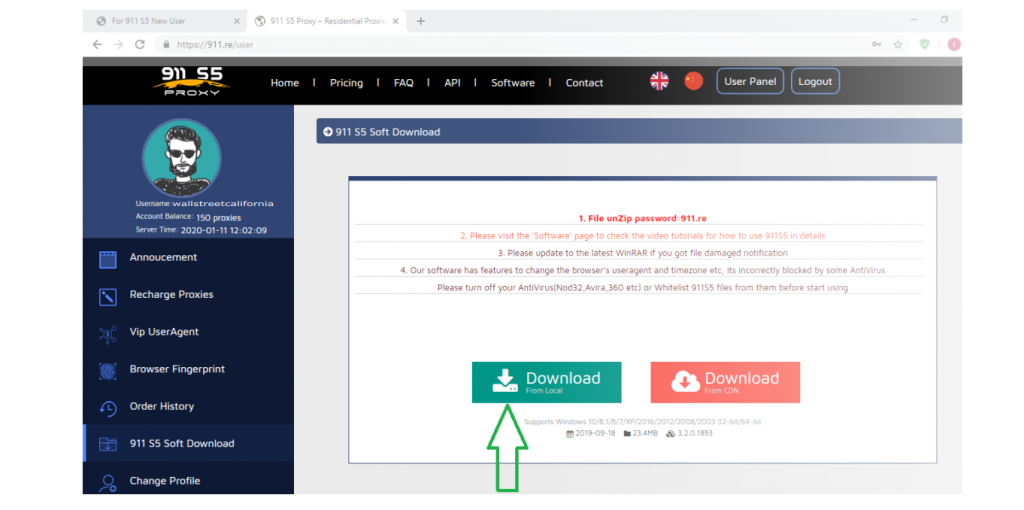 MAKE SURE ALL ANTI-VIRUS IS TURNED OFF FIRST BEFORE DOWNLOAD (YOU CAN PUT IT ON AFTER INSTALLATION IS COMPLETE). • CLICK DOWLOAD • PASSWORD NEEDED TO UNZIP THE SOFTWARE FILE ON PC IS 911.RE (AS SHOWN WITH SECOND ARROW
THE ZIPPED 911 SOCKS FILE WILL ASK FOR A PASSWORD, USE WHAT HAS BEING GIVEN TO YOU PREVIOUSLY (911.RE)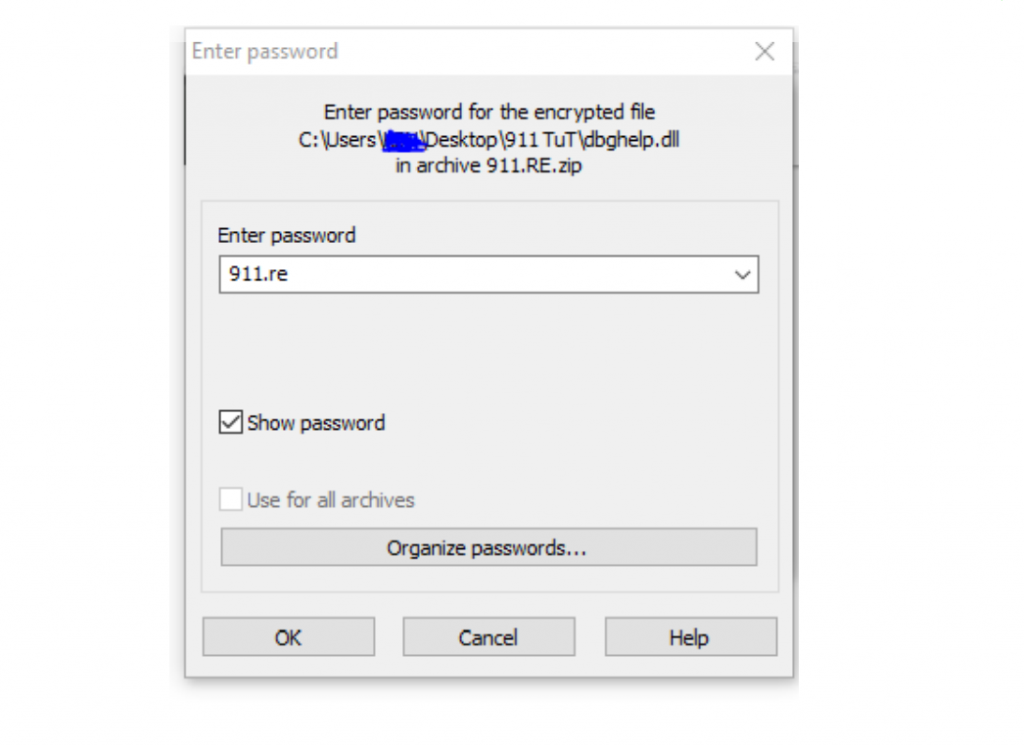 AFTER THE FILES HAVE BEING SUCCESSFULLY EXTRACTED, CLICK ON THE CLIENT TAB AS SHOWN BELOW TO LAUNCH THE 911 SOCKS SOFTWARE.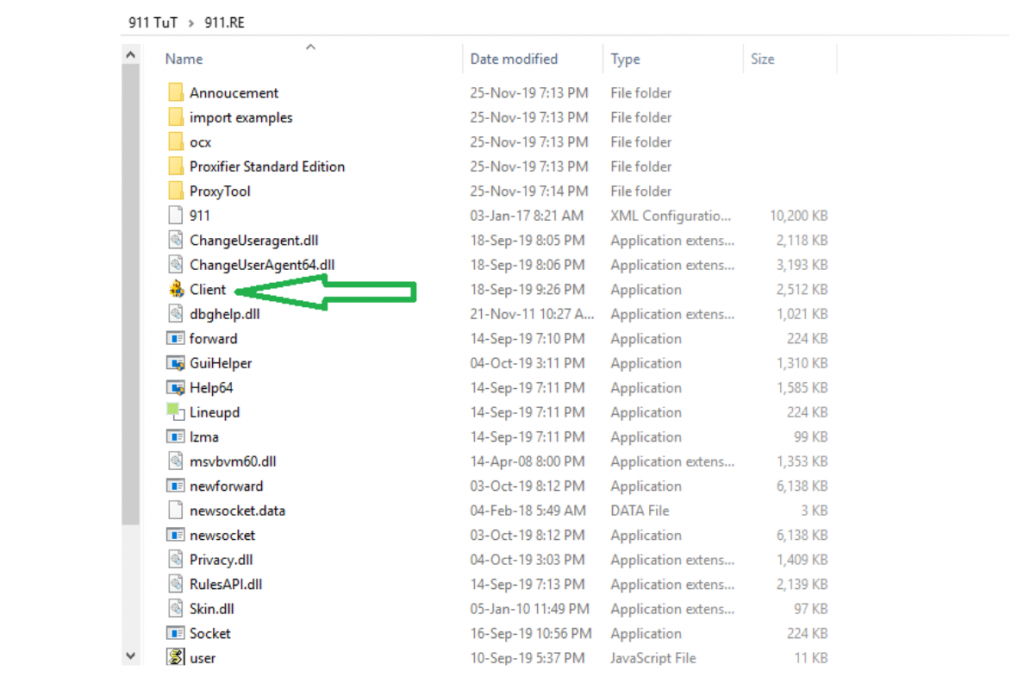 THIS IS WHAT POPS UP AFTER THE CLIENT TAB IS CLICKED ON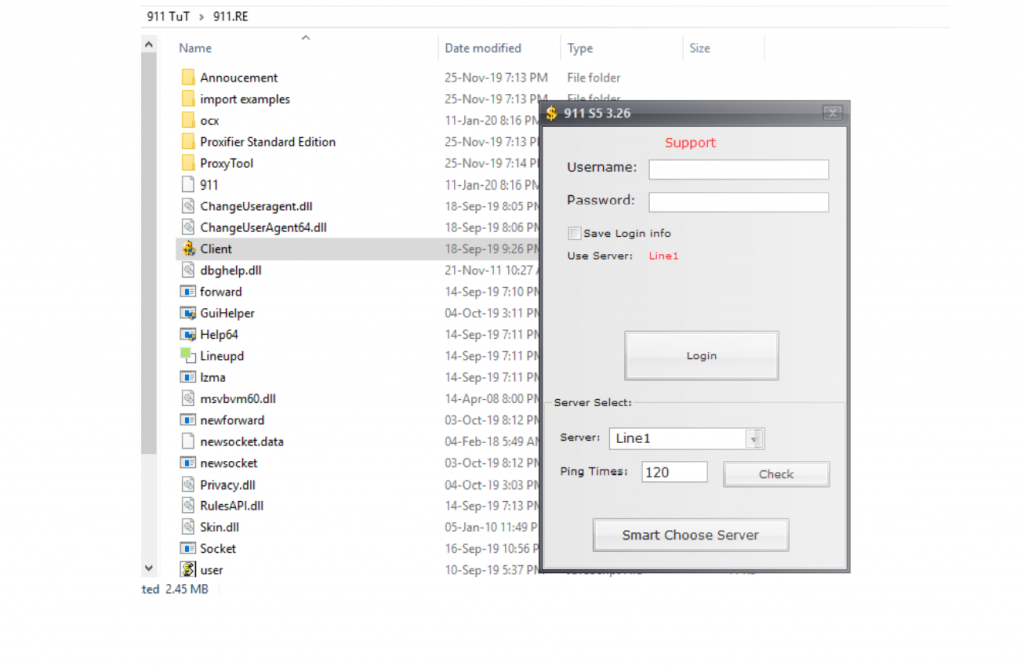 NOW INPUT YOUR USERNAME AND PASSWORD AND CLICK ON LOGIN
THIS AN AUTOMATIC ANNOUNCEMENT WHICH POPS UP EACH TIME, JUST CLOSE THIS PAGE, NOTHING IMPORTANT HERE.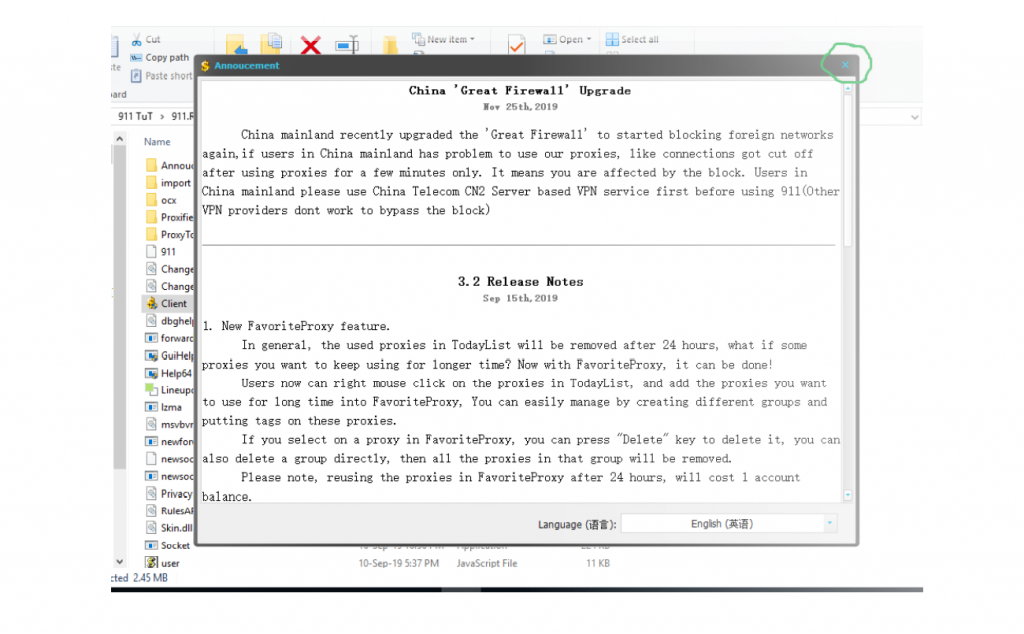 YOU HAVE NOW FINALLY DOWNLOADED, INSTALLED AND OPENED THE 911 SOFTWARE ON PC. 😉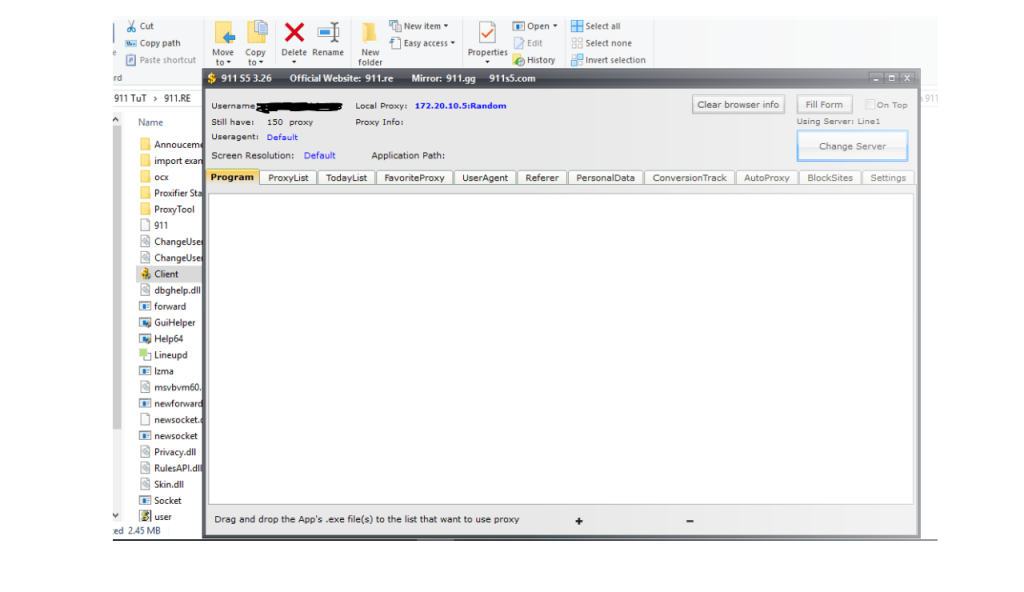 HOW TO RUN THE 911 S5 SOFTWARE AND CONNECT TO AN IP
In this section you will learn how to run 911 exe software
AFTER DOWNLOADING AND EXTRACTING THE ZIPPED/COMPRESSED SOFTWARE, CLICK ON CLIENT AS SHOWN BELOW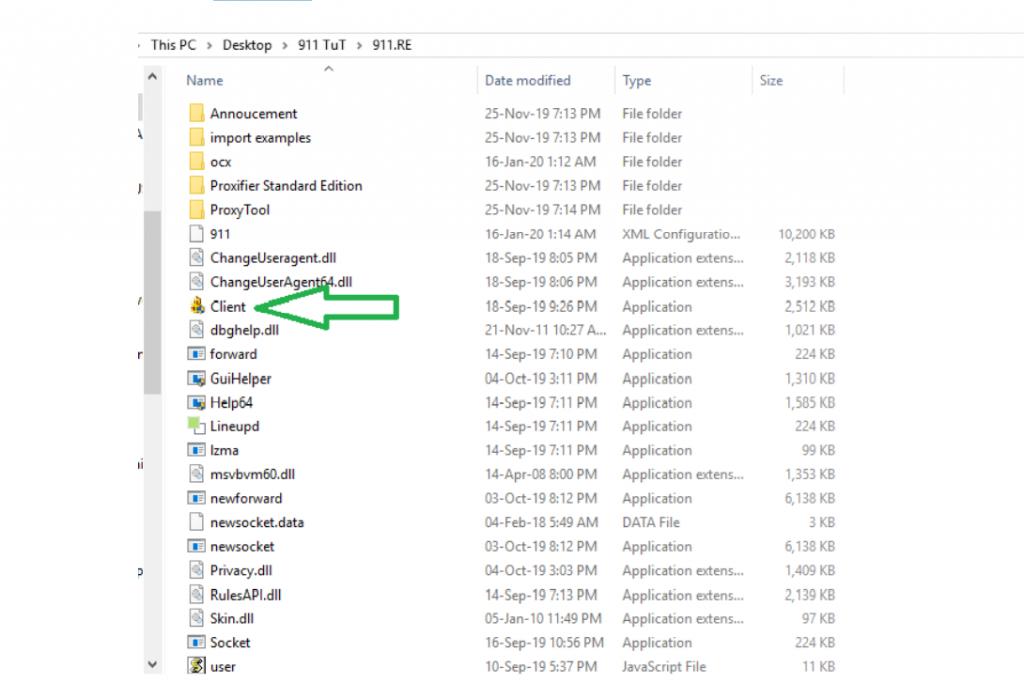 THE CLIENT TAB WILL OPEN A NEW LOGIN PAGE, INSERT YOUR LOGINS AND CLICK ON THE LOGIN TAB .ENTER LOGIN DETAILS AND PROCEED.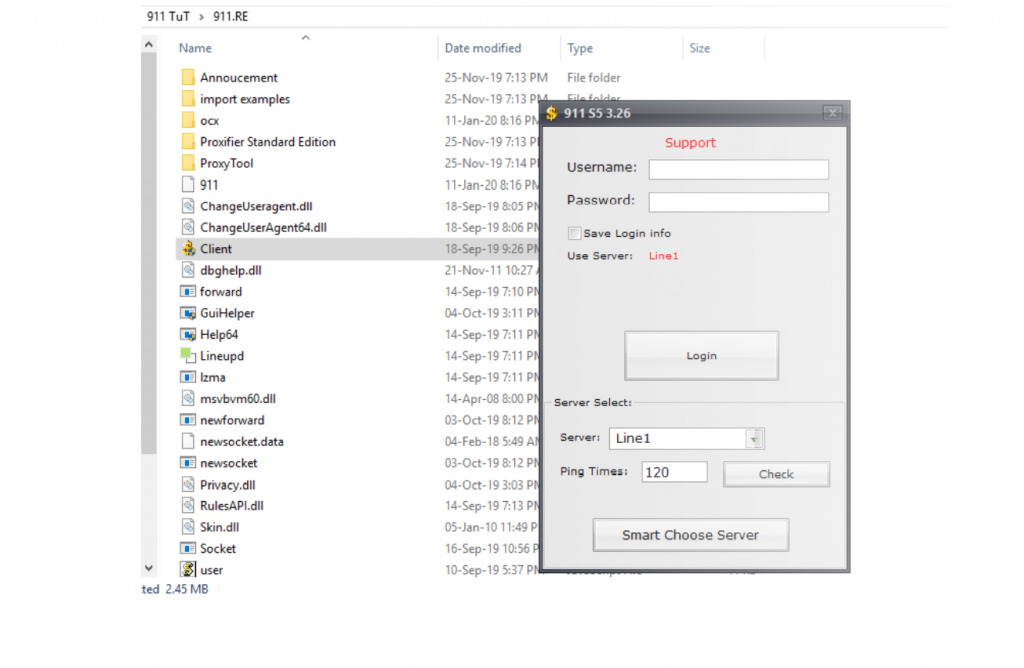 IN THE NEXT PAGE JUST CLICK ON CANCEL X SO THIS POP UP ANNOUNCEMENT CAN BE CLOSED.
NOW YOU ARE LOGGED IN ON THE 911 CLIENT, EVEN THO THERE ARE MANY TABS HERE,WE WILL FOCUS ON ONLY PROGRAM AND PROXYLIST TABS.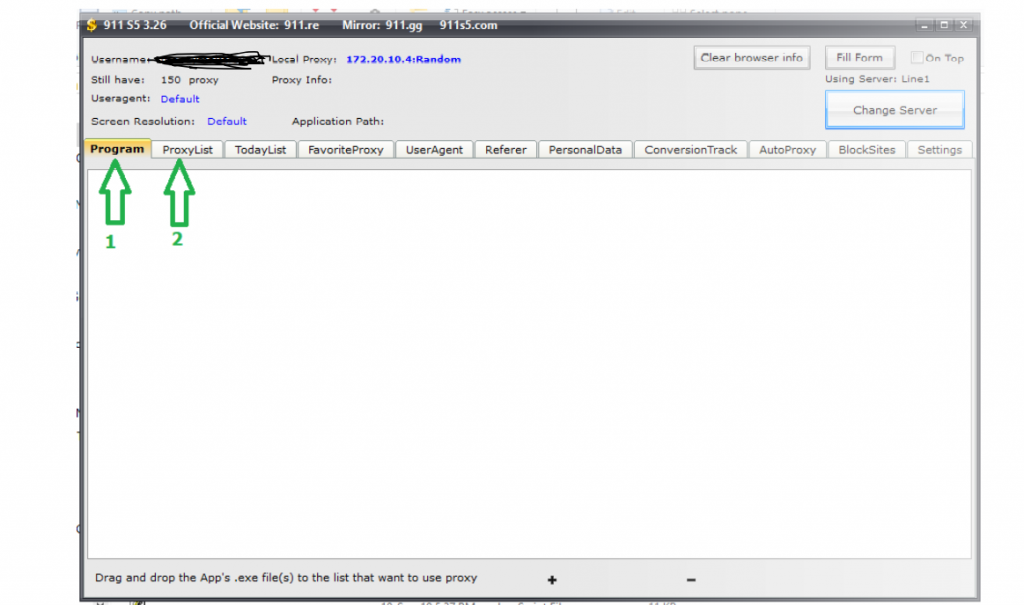 ON THE PROGRAM TAB, DRAG THE FIREFOX AND GOOGLE CHROME BROWSER SHORTCUTS FROM DESKTOP TO THE PROGRAM TAB.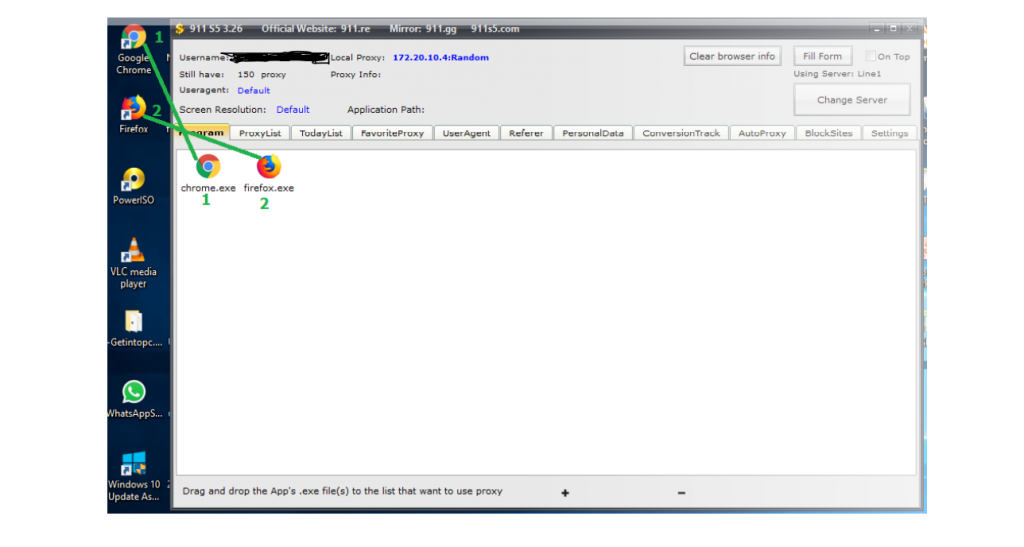 NOW ON THE PROXILIST TAB, FOR EXAMPLE IF I WANT TO CHANGE THE PROXY LOCATION TO JACKSONVILLE CITY, FLORIDA STATE IN USA,THIS HOW IT DONE;
SCROLL DOWN THE COUNTRY LIST, IN THIS CASE I CHOOSE US (usa). I WANTED FLORIDA STATE SO I TYPED FL. I THEN TYPED FULL CITY NAME. CLICK ON REFRESH FOR THE IP LIST TO UPDATE. YOU CAN NOW CHOOSE ANY PROXY BY DOUBLE CLICKING ON IT. CHOSEN IP WILL APPEAR ON LOCAL PROXY.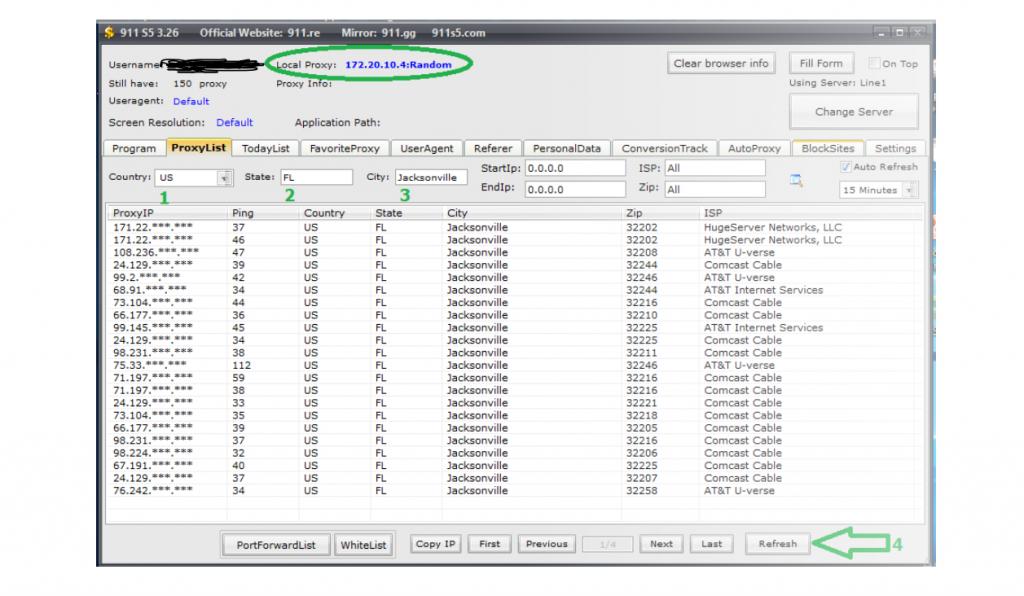 Conclusion
In this tutorial we have learned how to sign up, download and setup 911 S5 proxy Software.
To Check connected IP Visit
WhatIsMyIP.com® / Whoer.net What Is My IP? See My IP Address and My IP Location See the IP address assigned to your device. Show my IP city, state, and country. What Is An IP Address? IPv4, IPv6, public IP explained.