How to cash out Bitcoin: Step by Step Process
Cashoutgod
Bitcoin is an immensely popular cryptocurrency in the market currently. However, it is also difficult to mine and volatile in price since it is decentralized and not regulated by a centralized bank or government. But, if you own Bitcoin and want to make a profit out of your Bitcoin by selling it, you may need to convert your Bitcoin to cash for buying real things.
There are numerous options available for you to cash-out Bitcoin, such as peer-to-peer exchanges or through third-party exchanges, bank transfers, PayPal, or cash deposits. You can check out all the options before opting for any method.
How to turn Bitcoin into Cash using Binance P2P
Here is the step-by-step process to turn Bitcoin into cash:
Step 1) Visit: https://www.binance.com/en/
Log in or Sign up using your credentials and verify your account details
Step 2) Select the P2P Trading option
Select Sell
Select BTC
Select the fiat currency you want to cash out for. For example, if you are located in Russia, select Rubble. Here, we have selected USD.
In Payment mode, select Cash in Person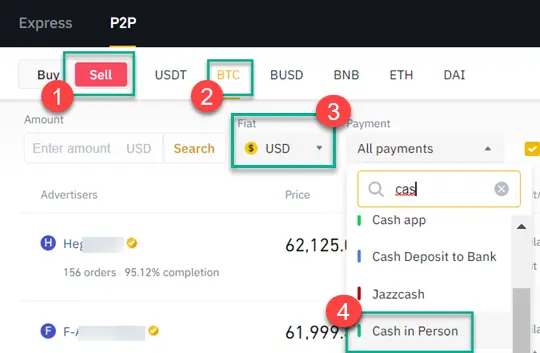 Step 3) On the next screen, you can see that multiple advertisers offering to buy BTC in Cash:
It is advisable to select advertisers with a High Completion rate
Click on the Sell BTC button

Step 4) Check the terms and conditions
Go through the Terms & Conditions of the Buyer. Many a time, buyers provide their contact information. It's prudent to call them before confirming the trade.
Once the deal is set, enter the BTC you want to sell and press the Sell BTC button.

Step 5) One to One Meet
You will be able to meet the buyer in person, count the cash and release the BTC. For this purpose, the Binance mobile app would be handy to turn your Bitcoin into cash.
Why Transfer Bitcoin to Your Bank Account?
The idea behind transferring Bitcoin to a bank account is that it will be able to replace traditional currencies. Nowadays, more people are investing in Bitcoin as they view it as a commodity that will grow in value over time as the demand for Bitcoin is increasing day by day.
If you have Bitcoin, you may want to hold on to it for that reason. However, you can make a good profit if you 'sell' your Bitcoin now and transfer an equal amount of money into your bank account.
There might be a time when you will be able to use Bitcoin for any purchase. For now, there are only a very few businesses and individuals who accept payments in Bitcoin. That is also a reason you may want to convert your Bitcoin to buy physical things.
Factors to consider when cashing out Bitcoin
Here are some crucial factors to consider when cashing out Bitcoin:
Transactional costs on P2P platforms:
P2P platforms allow you to trade hundreds and thousands of dollars in crypto. However, P2P platforms also have very low transactional limits and very high transactional fees. This may eat a sizeable amount when trading millions or a moderate amount of dollar value in Bitcoin. For example, you can't trade beyond $1000 per day on most peer-to-peer(P2P) exchanges. Binance P2P however, has no transactional fee on its P2P as well no limits.
Restrictions on trading and withdrawal amounts:
You can trade Bitcoin using peer-to-peer trading. However, cashing out a large amount of Bitcoin comes with certain restrictions on daily withdrawals on many third-party crypto trading platforms. Also, the possibility of scrutiny can't be denied.
Practical limits for daily trading are also imposed when crypto trading with different payment methods. For example, the trading limits on LocalBitcoins is a maximum of 200,000 Euros per year for tier 2 KYC verified done. However, Tier 3 verified accounts may not have any specific limits imposed.
Regulatory scrutiny:
Cashing out Bitcoin can create a considerable amount of wealth. That's why large transactions certainly attract the attention of banks when done using that system. So, it is likely that those bank accounts may get blocked out because of suspicious money laundering activities.
Taxes:
In countries where capital gains are taxable, cashing out or selling any size of the crypto would be counted for tax reporting. It is not always an issue for traders or holders with negligible sums.
However, large investors and corporate giants face such issues when trading large amounts of cryptocurrencies. They may have to pay huge sums in taxes where capital gains are taxable.
Speed:
Third-party broker exchanges might take at least two days to transfer the money to deposit into your bank account. So, you should select an exchange where you can turn your Bitcoin into Cash in a fast and reliable way.
Other Methods to Cash in Bitcoin:
Here are different ways to cash-out Bitcoin:
Method 1: Using a Cryptocurrency Exchange
A crypto exchange is just another name for a third-party broker. Many cryptocurrency exchanges don't allow you to deposit funds using fiat currency. However, some of them do.
You need to deposit your Bitcoin in the exchange. Once the exchange has received Bitcoin, you can immediately request a fiat currency withdrawal. The widely used method is to use a bank transfer.
However, you need to make sure that you do not break money laundering laws. You must withdraw the amount to the same bank account that you deposited with earlier. However, if you have never deposited fiat onto a broker exchange, you should first make at least one deposit.
Here are some exchanges when you can cash out your Bitcoins:
1) Coinbase
Coinbase is a cryptocurrency exchange where you can purchase, sell, transfer, and store digital currencies. It securely stores a wide range of digital assets in offline storage. This crypto exchange platform is supported in more than 100 countries.
Withdrawal Methods: Bank Deposit, Credit/Debit Card: Visa and Mastercard and P2P Trading.
Fees: Instant Card Withdrawal: Up to 1.5% of the transaction plus a minimum of $0.55.
Cash-out times: US withdrawals normally take  4-6 working days, while Euro withdrawals take 1-3 days.
2) Binance:
Binance is one of the widely popular crypto trading exchanges. It offers a platform for trading more than 150 cryptocurrencies. It provides an API that helps you to integrate your current trading application.
Withdrawal Methods: Bank Deposit, Credit/Debit Card: Visa and Mastercard and P2P Trading.
Fees: Instant card withdrawal transactions charge a fee of 1%. The minimum withdrawal amount is 10 EUR.
Cash-out times: In most cases, your withdrawal request will be processed within 5 minutes. However, processing time can take up to 24 hours in some rare cases.
Method 2: Using Bitcoin debit cards
Many websites allow you to cash out your Bitcoin through a prepaid debit card. You can use this card like the normal debit card powered by Mastercard or Visa.
The best thing about using a Bitcoin debit card is that it works for online and offline shopping in almost every business. These debit cards can withdraw cash from ATMs where these cards are accepted.
Example: https://www.binance.com/en/cards
Method 3: Using Bitcoin ATMs
Although it looks like a traditional cash machine, Bitcoin ATMs are not traditional ATMs. In place of connecting to the trader's bank account, they are directly connected to the Internet to carry out Bitcoin transactions.
Bitcoin ATMs allow you to scan QR codes and then sell your Bitcoin for cash. These ATMs are located across the world. Their locations can be found easily on the Internet.
However, you should remember that they usually charge high transaction fees compared with other cash-out methods. Moreover, not every Bitcoin ATM offers to buy and sell functionality.